About Us
FORMULE
À VOLONTÉ
MIDI (sauf dimanche et jour fériés) 12€90
Enfant(-10ans) 8.90€
Le soir,dimanche midi et jour fériés: 17€90
Enfant(-10ans) 10.90€




News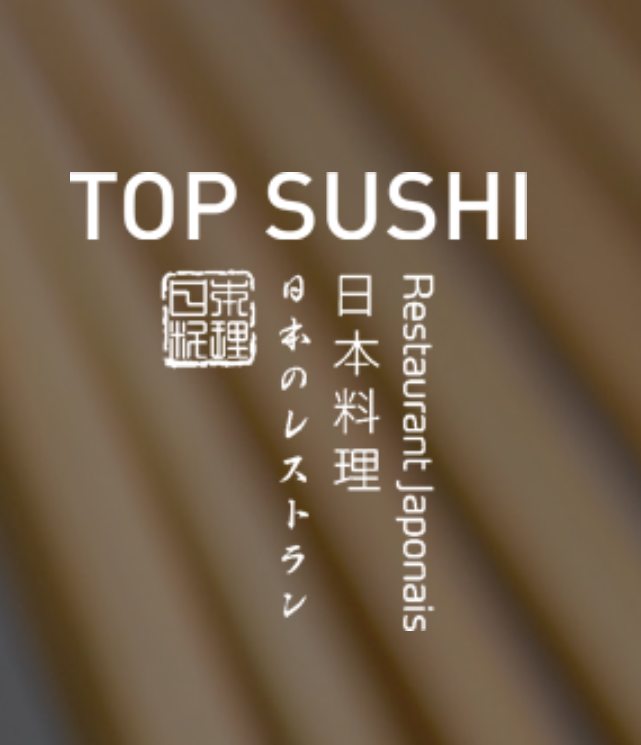 Le Japon, comme la France, font partie de ces vieilles cultures dans lesquelles la gastronomie a été élevée au rang d'un art majeur. Elle y possède, en plus, une signification philosophique, celle d'un lien harmonieux entre l'homme et la nature.
C'est pourquoi les mets privilégient les produits de saison et sont préparés sans altérer le goût naturel des aliments.
Cela donne une cuisine légère et saine qui concilie naturellement plaisir et diététique, simplicité, sophistication et esthétique:"La cuisine japonaise, et mieux encore, qui se médite!.Junichiro Tanizaki
Chez TOP SUSHI, nous sommes fiers de vous proposer sans compromis des produits d'une qualité et d'une fraîcheur irréprochable et de les préparer dans le respect de notre tradition culinaire.
Alors, installez-vous confortablement et consommez, sans modération...
Last reviews
Small restaurant in a poor peripheral neighborhood but their sushi is surprisingly good. Everything is so tasty and the prices are very reasonable, you can even have an "all you can eat" option for only 17 euros. I come here quite often with my colleagues and I'm never disappointed when it comes to food. The servers are quite nice and friendly, too.
Génial ! Nourriture hyper bonne , serveurs(es) hyper sympas A recommander! J'adore